About Dan Samas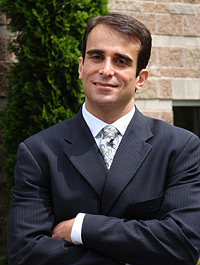 Dan Samas has been an attorney since 1995, when he first began defending clients who received speeding and traffic tickets. The motorists Dan initially represented were mainly taxi drivers, whose livelihood was often at stake. He has successfully represented thousands of motorists in speeding/ traffic ticket cases. Dan believes that a contributing factor to his success as a traffic defense lawyer comes from understanding the prospective of the prosecution. On the prosecutor's side, Dan Samas worked for both a Federal District Judge in Manhattan and the District Attorney's office.
Unlike other speeding/ traffic defense attorneys who chose to focus on several areas of law and are sometimes spread thin, civil speeding and traffic defense is the Law Offices of Dan Samas' sole practice area. This has allowed Dan to develop a deeper understanding of traffic procedures and case law.
Dan Samas knows the importance of understanding the needs of clients and that the attorney client relationship is built on trust. In response, The Law Offices of Dan Samas offers free consultations and always charges a very reasonable flat fee for every civil speeding/ traffic case no matter how many attorney appearances are required (our clients usually do not appear in traffic court, saving them valuable time). The Law Offices of Dan Samas will fight to keep your speeding/ traffic ticket off of your driving record so your insurance premiums remain in check
Dan has been selected as a Top 100 trial lawyer by National Trial Lawyers, an invitation-only organization composed of the premier trial lawyers from each state in the nation who meet stringent qualifications. Dan served as Chair of the Washington State Bar Association (WSBA) Rules for Appeal of Decisions of Courts of Limited Jurisdiction Subcommittee and as a member of the WSBA Infraction Rules Subcommittee (an organization that proposes statewide changes to the rules for traffic infractions). In addition to being a licensed attorney in Washington, New York, and the District of Columbia, Dan Samas earned his MBA at Purdue University and his bachelor's degree in Business Management from Cornell University. The Law Offices of Dan Samas serves all of greater Seattle including King, Snohomish, and Pierce counties and District Courts in Thurston, Kitsap, Skagit, Whatcom, and Clark Counties.
Attorney Dan Samas featured on KOMO News 4
What should you do when stopped for a speeding or traffic ticket from Dan Samas on Vimeo.